Completely legal medical yoga daily dose
ROCANADEVA MEDITATION & YOGA
Mary Jane's Medical Marijuana Hour
Host Tequila Tattoo featuring Guest Interviews. A Talk & Music Show.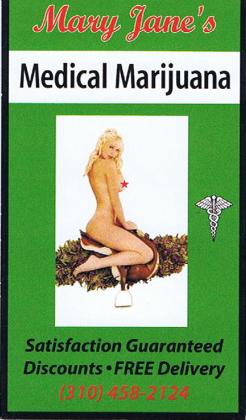 ---
---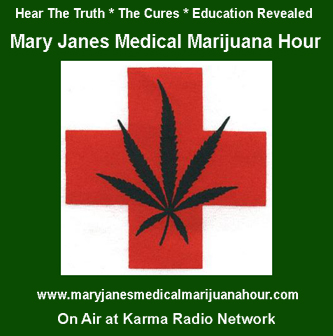 ---
---
Mary Jane's Medical Marijuana Hour
ALL LEGAL AND BY THE BOOK!
Cool Music and Education you want to know!
---
---
---
---
Mary Jane's Medical Marijuana Hour Schedule times are 1pm & 8pm PST
http://www.karmaradionetwork.com
Host Tequila Tattoo featuring Guests Interviews, Cool Music and education all legal and by the book!
Everyone wants to listen !
JETTA GOLDBERG PRESENTS
www.karmaradionetwork.com
Join as a friend at MYSPACE
http://www.myspace.com/karmaradionetwork
http://www.myspace.com/maryjanesmedicalmarijuana

Celeb Stoner
Entertainment with a twist


Please DONATE to keep Art Alive at this link http://www.karmaradionetwork.com/links.htm
Thank You
Contact: info@karmaradionetwork.com
---
---
Products:
Tasty Pastrees
Now available
From the fine folks MARYJANE'S kitchen
Tasty Pastrees
The Yummiest Cookies, Cakes and Brownies
Coming soon in compliance with Prop 215
The world's first
Maryjane's Medical Marijuana Tea
Finally...a cure for what ails you.

---

Call for information (310) 458-2124



---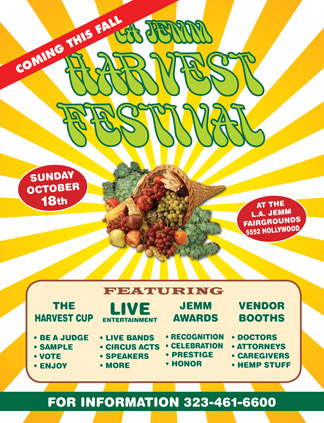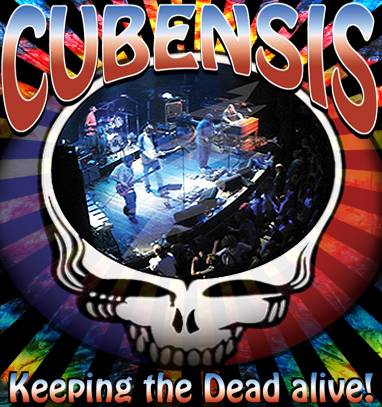 CUBENSIS
CUBENSIS on My Space
Check out the latest issue of LA JEMM Magazine
NOW ONLINE at
WWW.LAJEMM.COM
The LAJEMM.com website now contains all the pages of each issue, including a linked Table of Contents, A linked list of all our Advertisers, and links from our advertisers to their respective websites!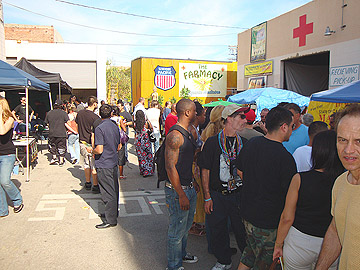 OPEN TO THE GENERAL PUBLIC
Admission $15
SUNDAY AFTERNOON, OCT 18TH
at the Rock City Fairgrounds
5552 Hollywood Blvd, Hollywood 90028
www.lajemm.com 323-461-6600
THE JEMM / ROCK CITY FAIRGROUNDS
The Rock City/ JEMM Fairgrounds includes an antique store and museum, a huge model railroad, two warehouses, a small theatre, a green room tent, "Grassic Park" featuring a lifesize dinosaur named "Panama Rex", three parking lots with vendors, a big outdoor stage, and a covered platform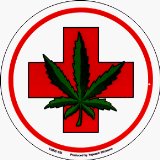 EDUCATION ON MEDICAL MARIJUANA


- Learn the healthful benefits of medical marijuana
- talk to doctors, laywers, and other professionals
- view vendor displays related to this medication

GIFT BAGS
Busineses can insert any promotional item into 500 JEMM Gift Bags for a fee of $100. Gift bags will be given to Registered Judges Cup, Winners of Awards, Vendors, Speakers, and Entertainers.

SOUVENIR PROGRAM
- business card ad or info on program . . . $100

SET UP AND PARKING
Vendors can set up the day before, or evening before, or in the morning before 10 AM. There should be plenty of street parking on Sunday afternoon

HARVEST FESTIVAL
COSTS AND PACKAGE DEALS
Admission Ticket . . . $15
Vendor Booth . (includes 4
tickets). . . . . . . . .$200
HARVEST CUP Entry . . .
One Ounce
JEMM Award
(banquet table reservation) . . . $200
Gift Bag Insertation . . . .$100
Business Card on Official Program . . . . . . .$100
Total Cost . . . . . . . . $600
Package Deal for "The Works . . . . $500

JEMM Harvest line:
323-461-6600